1st PRINCIPAL CUP VOLLEYBALL TOURNAMENT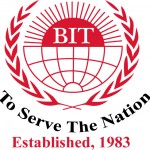 Bangladesh International Tutorial is delighted to host the '1st Principal Cup' Volleyball Tournament on March 10 & 11, 2017 at its own premises in the Senior Campus, Uttara from 9:00 am till 5:00 pm. Renowned English Medium Schools of Dhaka will participate in this event. All current students of the school along with their parents are welcome to attend.
N.B. BIT students MUST bring their ID cards at the venue (dress code: casual and decent). Thank you. BIT.