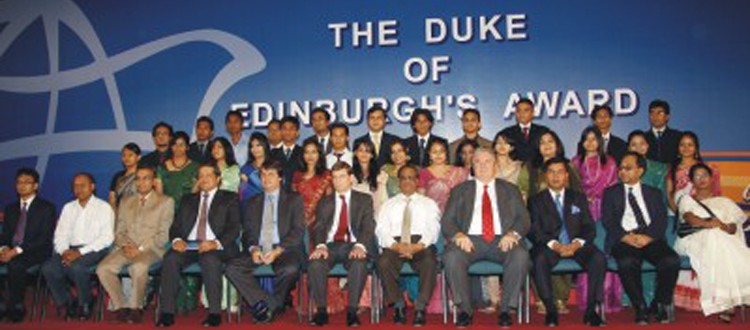 480 students get Duke of Edinburgh's Award
The Duke of Edinburgh's Award Foundation, Bangladesh yesterday recognised 480 students from different educational institutes for successfully completing the requirements of the Bronze and Silver awards.
The award ceremony of the Duke of Edinburgh's Award was held at Bangabandhu International Conference Centre in the city.
Of the awardees, 58 were from Dhaka University, 19 from American International University of Bangladesh, 47 from Bangladesh International Tutorial, 14 from Bangladesh University of Engineering and Technology, one from European Standard School, 67 from Jahangirnagar University, 81 from Maple Leaf International School, 62 from Mastermind School, 59 from Oxford International School, 18 from Red Brick School, 32 from University of Asia Pacific and 13 from United International University.
"For young people, the award offers immense opportunities to learn life skills needed in the changing world," said Prime Minister's Adviser on Education Dr Alauddin Ahmed while addressing the event as the chief guest.
"I hope the awardees will realise their role as citizens of a growing nation who will work towards materialising our dream of establishing Bangladesh as a financially independent and digital nation," he said.
The Duke of Edinburgh's Award was introduced in Bangladesh in 2008. It initiated a movement for personal development for the youth.
The requirements of the Bronze and Silver awards include minimum six months and a year of efforts respectively under four sections — voluntary community service, acquiring a new skill, pursuing a physical recreation and an adventurous journey.
Some of the awardees taught underprivileged children as their service option, while some led cleaning up campaigns in their localities. For skills, some learned a foreign language, while some chose playing musical instruments.
As physical recreation, some took up self-defence arts like karate and other sports and for the adventurous journey component, the awardees had expeditions to different parts of the country and some visited abroad.
Speaking as the special guest, British High Commissioner Stephen Evans emphasised the need for young people's engagement in community work for their own development and for the development of the country.
He hoped that the award would be successful in contributing to the transformation of mass people from all sections of society.
Jim McCabe, chairman of Duke of Edinburgh's Award Foundation, Bangladesh also spoke.
The programme featured a recognition session for the awardees and music and dance.